Posts for tag: tooth decay
By Smile Works of The Hudson Valley
February 05, 2019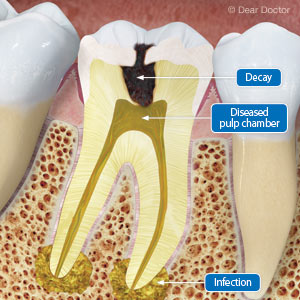 A root canal treatment is a common procedure performed by dentists and endodontists (specialists for inner tooth problems). If you're about to undergo this tooth-saving procedure, here's what you need to know.
The goal of a root canal treatment is to stop tooth decay within a tooth's interior and minimize any damage to the tooth and underlying bone. This is done by accessing the tooth's pulp and root canals (tiny passageways traveling through the tooth roots to the bone) by drilling into the biting surface of a back tooth or the "tongue" side of a front tooth.
First, though, we numb the tooth and surrounding area with local anesthesia so you won't feel any pain during the procedure.  We'll also place a small sheet of vinyl or rubber called a dental dam that isolates the affected tooth from other teeth to minimize the spread of infection.
After gaining access inside the tooth we use special instruments to remove all of the diseased tissue, often with the help of a dental microscope to view the interior of tiny root canals. Once the pulp and root canals have been cleared, we'll flush the empty spaces with an antibacterial solution.
After any required reshaping, we'll fill the pulp chamber and root canals with a special filling called gutta-percha. This rubberlike, biocompatible substance conforms easily to the shape of these inner tooth structures. The filling preserves the tooth from future infection, with the added protection of adhesive cement to seal it in.
Afterward, you may have a few days of soreness that's often manageable with mild pain relievers. You'll return for a follow-up visit and possibly a more permanent filling for the access hole. It's also likely you'll receive a permanent crown for the tooth to restore it and further protect it from future fracture.
Without this vital treatment, you could very well lose your tooth to the ravages of decay. The time and any minor discomfort you may experience are well worth the outcome.
If you would like more information on treating tooth decay, please contact us or schedule an appointment for a consultation. You can also learn more about this topic by reading the Dear Doctor magazine article "Root Canal Treatment: What You Need to Know."
By Smile Works of The Hudson Valley
February 02, 2018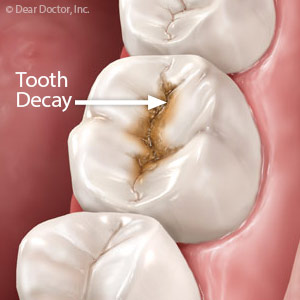 Families of children with chronic conditions face many challenges. One that often takes a back seat to other pressing needs is the prevention of tooth decay. But although difficult, it still deserves caregivers' attention because of the dental disease's potential long-term impact on oral health.
Chronically ill children are often at higher risk for tooth decay, most commonly due to challenges in practicing effective oral hygiene. Some conditions create severe physical, mental or behavioral impairments in children's ability to brush and floss: for example, they may have a heightened gag reflex to toothpaste in their mouth or they may not be able to physically perform these tasks on their own.
Some children may be taking medications that inhibit salivary flow as a side effect. Saliva is critical for disease prevention because it both neutralizes mouth acid (which can erode tooth enamel) and is a first line of defense against disease-causing bacteria. And a child's diet, while designed to support treatment of their chronic condition, may conversely not be the best for supporting their dental health.
It's best if caregivers and their dentists develop a strategy for decay prevention, which should include the following:
Regular dental visits beginning at Age One. Besides monitoring dental health, dental visits also provide cleanings and other preventive measures like topical fluoride or sealants;
Brushing and flossing support. Depending on a child's physical and mental capacities, caregivers (or an older sibling) may need to model brushing and flossing, or perform the tasks for the child;
Medication and diet changes. If medications are causing dry mouth, caregivers can speak to their physicians about possible alternatives; likewise, they should see if modifications can be made to their diet to better support dental health.
Boosting salivary flow. It's especially important with children who have dry mouth to drink more water or use aids (like xylitol gum or candies) to boost salivary flow.
Although it requires extra effort and time to give attention to a chronically ill child's dental health, it's well worth it. By working to prevent tooth decay early in life, these children will be more likely to enjoy good dental health in the future.
If you would like more information on dental care for children with special needs, please contact us or schedule an appointment for a consultation. You can also learn more about this topic by reading the Dear Doctor article "Managing Tooth Decay in Children with Chronic Diseases."
By Smile Works of The Hudson Valley
November 04, 2014
Tooth decay is a primary cause of tooth damage and loss, with annual treatment costs in the billions of dollars. It arises mainly from oral bacteria, which proliferates in the absence of effective oral hygiene. There are, however, other risk factors besides poor hygiene that could make you more susceptible to this disease.
Many people, for example, have genetically inherited deeper grooves (fissures) and depressions (pits) than the average tooth anatomy. These may be harder to reach with a toothbrush and can become havens for bacterial plaque. Others may have health conditions that indirectly affect the mouth: bulimia or anorexia, psychological conditions that involve self-induced vomiting, or GERD, gastro-esophageal reflux disease, in which stomach acid could regurgitate into the mouth. These conditions could result in a highly acidic mouth environment.
Some medical and — ironically — dental treatments could also increase your tooth decay risk. Some medications can reduce saliva flow, which inhibits acid neutralization and re-mineralization of enamel. Retainers, braces, bite guards or other dental appliances may also reduce the saliva wash over teeth, and can make brushing and flossing more difficult.
There are also risk factors that result from our lifestyle choices. Eating a lot of foods rich in sugars and other carbohydrates, for example, or acidic beverages like soda, energy or sports drinks contributes to the rise of bacteria in our mouths.
There are ways to reduce the effects of these risk factors. In addition to a daily habit of effective brushing and flossing, you should also include semi-annual cleanings and checkups at our office a part of your routine. If you have genetic, medical or dental issues that are out of your control, we can discuss solutions, such as alternatives to medications or different techniques for cleaning around dental appliances. For lifestyle-related factors, you should consider removing the habit or modifying it: for example, snacking at specific times or drinking acidic beverages only at mealtime.
While tooth decay is a serious, destructive disease, it is highly preventable. Addressing all your risk factors, not just hygiene, will reduce your chances of having it.
If you would like more information on tooth decay prevention, please contact us or schedule an appointment for a consultation. You can also learn more about this topic by reading the Dear Doctor magazine article "Tooth Decay: How to Assess Your Risk."