Posts for tag: gummy smile
By Smile Works of The Hudson Valley
August 23, 2021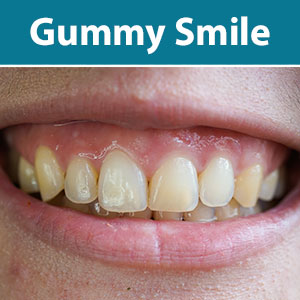 Besides straight and translucent teeth, an attractive smile has another important component: balance. In a great smile, the visible areas of the teeth and gums are in balanced proportion to one another.
But what is the ideal proportion between teeth and gums? Although aesthetic appeal is largely "in the eye of the beholder," dental professionals typically consider a properly sized tooth to be around 10 mm in visible length. As for the upper gums, no more than 4 mm of tissue should show when smiling. Teeth appearing shorter than 10 mm or the gums displaying more than 4 mm can create an effect called a "gummy smile."
Fortunately, there are different approaches for correcting a gummy smile, depending on what's causing the appearance of gumminess. Not only are there different causes, but they can be diverse in nature.
Obviously, an actual excess of gum tissue can cause a smile to look gummy—but so can shortened teeth. One possible solution called crown lengthening could help correct either possibility. During the procedure, we remove any excess gum tissue or reposition the gums after reshaping the underlying bone to reveal more of the tooth crown. Worn or shortened teeth can also be made to look longer with porcelain veneers.
A gummy smile could also be caused by a hypermobile lip, in which the lip rises higher than normal while smiling. We may be able to prevent this temporarily by injecting Botox into the lip muscles, which paralyzes them and inhibits their ability to move upward. A more permanent approach is to surgically restrict the upward movement of the lip muscles.
The gums may also seem too prominent if the upper jaw is longer in proportion to the face. One way to correct this is orthognathic surgery, a procedure that moves the upper jaw to a higher position on the skull. This can reduce the jaw profile with the face and subsequently affect how much of the gums show while smiling.
These solutions range from relatively minor to significantly invasive. The first step, though, is to find out what's really behind your gummy smile before taking the next step to make it more attractive.
If you would like more information on improving a gummy smile, please contact us or schedule an appointment for a consultation. You can also learn more about this topic by reading the Dear Doctor magazine article "Gummy Smiles."
By Smile Works of The Hudson Valley
March 27, 2019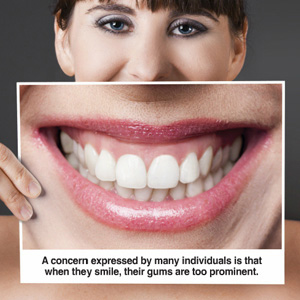 A beautiful smile is a balanced smile, especially in regard to your gums. A normal smile usually shows 4 mm or less of gum tissue along with about 10 mm of tooth length. But if your gums show more than that, your smile may seem too gummy. In terms of perceived balance, this could detract from your smile's attractiveness.
Fortunately, you don't have to live with a gummy smile—there are various ways to correct or minimize its effect. First, though, we'll need to determine the underlying cause before deciding on the best treatment. And, there are several possible causes, the obvious being too much gum tissue present. Teeth that appear shorter due to wear or incomplete eruption could also make the gums appear larger.
We may be able to correct these size problems by surgically removing and reshaping excess gum tissues and possibly the underlying bone to reveal more of the teeth. We can also bond composite resins or porcelain veneers to shorter teeth to make them appear larger.
But not all gummy smile problems pertain directly to the teeth and gums; instead, it could be your upper lip moves too far up as you smile (hypermobility). Or, your upper jaw may be too long for your face, which can also cause too much of the gums to show during smiling.
With upper lip hypermobility, we may be able to inhibit the lip muscles' movement temporarily with Botox injections that partially paralyze the muscles (the effect eventually wears off, so this treatment will need to be repeated). A periodontist, an oral surgeon, or a plastic surgeon could also permanently alter the upper lip movement through a surgical procedure. Surgery may also be necessary for an abnormally long upper jaw: orthognathic surgery re-positions the jaw to the skull, which can lessen the amount of gums showing.
If your smile is too gummy, we can transform it. But first, let's find out what the real cause is with a comprehensive dental examination. Once we know, we can better advise you on the best way to bring beautiful balance to your smile.
If you would like more information on improving a gummy smile, please contact us or schedule an appointment for a consultation. You can also learn more about this topic by reading the Dear Doctor magazine article "Gummy Smiles."
By Smile Works of The Hudson Valley
June 20, 2018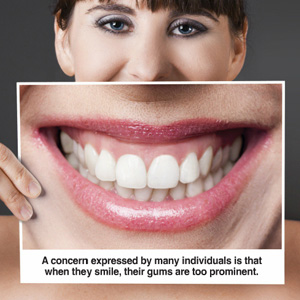 Even with picture perfect teeth, you may still be unhappy with your appearance. The problem: too much of your upper gums show when you smile.
There's no precise standard for a "gummy smile"—it's often a matter of perception. As a rule of thumb, though, we consider a smile "gummy" if four or more millimeters of upper gum tissue show while smiling. In any event if you perceive you have a gummy smile, it can greatly affect your self-confidence and overall well-being.
The good news is we can often correct or at least minimize a gummy smile. The first step, though, is to find out why the gums are so prominent.
There are a few possible causes: the most obvious, of course, is that there's more than normal gum tissue present. But the cause could be the front teeth didn't fully erupt in childhood and so the gums appear more prominent. Other causes include the upper lip moving too far upward when smiling (hypermobile) or an elongated upper jaw that's out of proportion with the face.
Finding the exact cause or combination of causes will determine what approach we take to minimize your gummy smile. If too much gum tissue or not enough of  the teeth show, we can use a surgical procedure called crown lengthening to expose more of the crown (the visible part of a tooth), as well as remove excess gum tissues and reshape them and the underlying bone for a more proportional appearance.
A hypermobile upper lip can be treated with Botox, a cosmetic injection that temporarily paralyzes the lip muscles and restricts their movement. But for a permanent solution, we could consider a surgical procedure to limit upper lip movement.
Surgery may also be necessary for an abnormal jaw structure to reposition it in relation to the skull. If, on the other hand it's the teeth's position and not the jaw causing gum prominence, we may be able to correct it with orthodontics.
As you can see, there are several ways varying in complexity to correct a gummy smile. To know what will work best for you, you'll need to undergo an orofacial examination to determine the underlying cause. It's quite possible there's a way to improve your smile and regain your self-confidence.
If you would like more information on improving a gummy smile, please contact us or schedule an appointment for a consultation. You can also learn more about this topic by reading the Dear Doctor magazine article "Gummy Smiles."