Posts for: June, 2018
By Smile Works of The Hudson Valley
June 20, 2018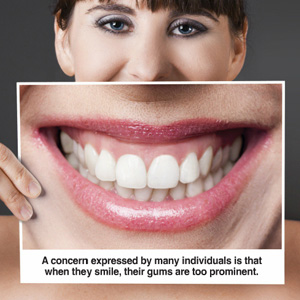 Even with picture perfect teeth, you may still be unhappy with your appearance. The problem: too much of your upper gums show when you smile.
There's no precise standard for a "gummy smile"—it's often a matter of perception. As a rule of thumb, though, we consider a smile "gummy" if four or more millimeters of upper gum tissue show while smiling. In any event if you perceive you have a gummy smile, it can greatly affect your self-confidence and overall well-being.
The good news is we can often correct or at least minimize a gummy smile. The first step, though, is to find out why the gums are so prominent.
There are a few possible causes: the most obvious, of course, is that there's more than normal gum tissue present. But the cause could be the front teeth didn't fully erupt in childhood and so the gums appear more prominent. Other causes include the upper lip moving too far upward when smiling (hypermobile) or an elongated upper jaw that's out of proportion with the face.
Finding the exact cause or combination of causes will determine what approach we take to minimize your gummy smile. If too much gum tissue or not enough of  the teeth show, we can use a surgical procedure called crown lengthening to expose more of the crown (the visible part of a tooth), as well as remove excess gum tissues and reshape them and the underlying bone for a more proportional appearance.
A hypermobile upper lip can be treated with Botox, a cosmetic injection that temporarily paralyzes the lip muscles and restricts their movement. But for a permanent solution, we could consider a surgical procedure to limit upper lip movement.
Surgery may also be necessary for an abnormal jaw structure to reposition it in relation to the skull. If, on the other hand it's the teeth's position and not the jaw causing gum prominence, we may be able to correct it with orthodontics.
As you can see, there are several ways varying in complexity to correct a gummy smile. To know what will work best for you, you'll need to undergo an orofacial examination to determine the underlying cause. It's quite possible there's a way to improve your smile and regain your self-confidence.
If you would like more information on improving a gummy smile, please contact us or schedule an appointment for a consultation. You can also learn more about this topic by reading the Dear Doctor magazine article "Gummy Smiles."
By Smile Works of The Hudson Valley
June 10, 2018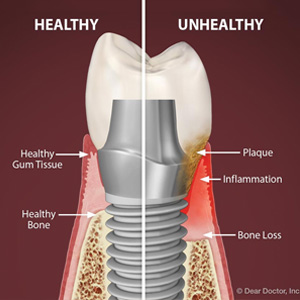 You've invested quite a bit in your new dental implants. And it truly is an investment: because of implants' potential longevity, their long-term costs could actually be lower than other restorations whose upfront costs might be less.
But to better ensure their longevity, you'll need to keep your implants and the natural tissues supporting them clean of bacterial plaque, a sticky biofilm that can cause periodontal (gum) disease. Although the implant itself is unaffected by disease, the natural tissues around it can be.  An infection could ultimately weaken the bone supporting the implant and lead to its failure.
Such an infection involving implants could advance rapidly because they don't have the natural defenses of the original teeth. Our natural teeth are connected to the jaw through the periodontal ligament, a collagen network that attaches to both the teeth and the bone through tiny tissue fibers. This connection also provides access to antibodies produced by the body to fight infection.
By contrast, we place implants directly into the jawbone. While this creates a very secure attachment, the implant won't have the same connection as teeth with the body's immune system. That means any infection that develops in surrounding tissues can spread much more rapidly—and so must be dealt with promptly.
Treating this particular form of gum disease (known as peri-implantitis) is similar to infections with natural teeth and gums, with one important difference involving the tools we use to remove plaque from them. While natural teeth can handle metal scalers and curettes, these can create microscopic scratches in the porcelain and metal surfaces of an implant and create havens for further bacterial growth. Instead, we use instruments made of plastic or resin that won't scratch, as well as ultrasonic equipment to vibrate plaque loose.
To avoid an infection, it's important that you brush your implants and surrounding tissues just like you would your natural teeth (be sure you use a soft-bristled brush). And keep up regular dental visits for thorough cleanings and checkups to stay ahead of any developing gum infection. Maintaining your dentures will help ensure they continue to brighten your smile for a long time.
If you would like more information on dental implants, please contact us or schedule an appointment for a consultation. You can also learn more about this topic by reading the Dear Doctor magazine article "Dental Implant Maintenance: Implant Teeth Must be Cleaned Differently."